Ever since taking a massive plunge during the late 2000's in the wake of the Great Recession, manufacturing jobs have been making a slow and steady recovery. According to recent reports from the Bureau of Labor Statistics, that recovery has been ramping up greatly over the last year, peaking at 36,000 jobs created last month alone! The current job total sits at 12.7 million, up nearly 300,000 since last year, and within less than a million of the total number of workers 10 years ago, before the precipitous drop in employment.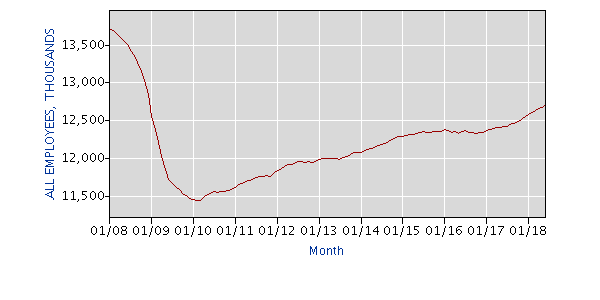 Leading the charge in this groundswell of job creation is transportation (up 12,500), following a huge wave of hiring in automotive parts manufacturing. Other major contributors include fabricated metal products (up 10,000), and computer and electronics(up 5,100).
The manufacturing industry's continued success hasn't just translated to new jobs though—salaries are rising as well! A recent report from ThomasNet also noted that employee earnings are up across the board, with the average non-supervisory manufacturing worker making $902 per week in June, a 3% increase over last June, and significantly above the $752 per week the average US worker makes.
Have the recent booms in the manufacturing market been benefiting your business? MMI offers hundreds of good condition used CNC machines at great value, perfect for any shop or plant that's ready to take on some new hands. With our new, redesigned marketplace, it's easier than ever to find the exact equipment that suits your needs, without breaking the bank!
ABOUT MACHINERY MARKETING INTERNATIONAL:
MMI is a global leader in used machinery transactions. Buyers can easily browse through hundreds of quality used CNC machines online or talk to an experienced account manager to find the perfect match for their needs. Sellers can get value quick through direct purchase, trade-in, or leverage MMI's vast marketing network to get the top value on their equipment—and whatever the choice, make use of MMI's worldwide storage, rigging, logistics, and quick appraisal services. Buying or selling, one machine or one hundred,
MMI is the smart way to BUY MACHINERY and SELL MACHINERY.