The 2014 International Manufacturing Technology Show (IMTS) broke records once more this year with a 14 percent attendance increase from 2012. With total registrations reaching more than 114,000, the 2014 show also featured more than 2,000 exhibitors showcasing the latest in metalworking and technology at Chicago's McCormick Place.
The show expanded to six days this year, showing remarkable displays of new and emerging technologies in manufacturing. Many manufacturer attendees arrived with the intention of learning the future of manufacturing, while increasing current productivity and decreasing costs.
Most everyone walking through the display halls shared the same goals: to learn about the most innovative machines in the manufacturing industry, to see what's in the pipeline, and to possibly leave with some new equipment.
Our MMI crew had the pleasure of visiting more than a dozen of the manufacturer booths belonging to companies regularly featured on our auction websites, MMI-Auction.com and MachineToolBids.com, as well as our corporate site carrying all of our inventory, MMI-Direct.com.
Great CNC machines showcased included: Mori-Seiki DMG's unforgettable futuristic, clean-line equipment; Fanuc's high-powered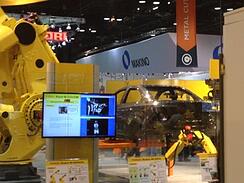 robotics; Mazak's grand display of new launches; Haas Automation's walk-through exhibit of high-quality models; Okuma's strong messaging of "customers first;" Doosan's appealing large machinery and new models; and the buzz of 3-D printing were some of the highlights we experienced over the course of the week.
For these top brands and others, visit all of our current CNC machine auctions and sales. If you're interested in any of our CNC machines, let us know here.
Our high expectations for the future of manufacturing left with affirmation. The advancements in technology seen at this year's trade show were out of this world, and we look forward to returning to IMTS 2016.
Check out some of our favorite sights from IMTS 2014: