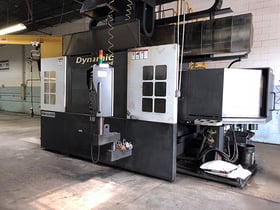 There are many reasons to consider selling a machine. But one thing is clear – having a machine on your shop floor occupies both time and money. If it is on your floor, it should be working for you and making you money.
But we get it – the machine in question was likely a huge investment, and has probably served you well for dozens of projects. Plus, organizing yourself to sell the machine means a lot of time and energy. It is easy to convince yourself that you simply don't have the time to invest in the process. This guide is designed to help you through the process, gain back space on your shop floor, and free up cash for other investments.
Good Reasons to Sell Machinery
Good reasons to sell a machine are as varied as the machines themselves.

Sometimes the contract for a specific job is over, limiting the machine's usefulness to the shop. If an upgraded machine model is on the way, selling a machine might simply be a question of prioritizing the available floor space. And while an entire shop closure can feel like a much more daunting task, the necessary steps are the same in each case.
Steps to Preparing Your Machine for Sale
Once you have decided to sell, there are several steps you can take to ensure that you get the best price for your CNC machine.
Determine the Condition. The first step is to make sure the equipment is in working order. This may seem obvious, but if the machine has been sitting unused for a while, assessing its current condition will be a critical step in understanding its current value. Consider having the machine professionally inspected. Doing so will not only give you a thorough understanding of the current condition, but afterward the inspection report can be an excellent selling point that can help boost the final selling price.
Clean it. No-Really. Clean it well. Use a degreaser on the entire machine - inside and outside, sides, back. Everything. There are lots of brands out there, just make sure to use one tough enough for the job. Look for brands that are concentrated or industrial strength. Wipe down thoroughly. Use Goo Gone or similar to remove any sticker or tape residue. After the machine has been thoroughly cleaned with the degreaser, use an industrial grade mirror glaze compound on the outside of the machine to reduce the effect of scratches and dents from the surface. Finish the job by buffing all surfaces with a metal polishing cream.
It seems like a lot of work but the price differences we have seen between machines that look well cared for, and those that look, um, worn will convince you that it is worth the time investment.
Shoot It. After a thorough cleaning, take some time to take great photos of the machine. Taking video of the machine while it is running is very important to draw in potential buyers. I've written pointers on how to do this before. You can follow the links.
Put It on the Market. You are now ready to get it out in front of the right audience. While there are do it yourself platforms for selling machinery, these require additional footwork and ongoing management of the process. A less time consuming alternative to consider is using a professional machinery dealer. Used machinery dealers can be a way to navigate the different platforms available for machinery sales, and get the machine in front of the widest possible audience.

Selling surplus CNC machinery doesn't have to be stressful or time consuming. Following these steps will help the process go smoothly, and maximize the price you can get for the machine.
About MMI: Machinery Marketing International provides advisory, valuation, disposition and auction services within a broad range of the manufacturing and industrial sectors. With over 20 years of experience and substantial financial backing, MMI's Asset Recovery and Remarketing Services division has facilitated the disposition of over $230 Million of equipment for small businesses, bankruptcies, receiverships and such Fortune 500 companies as Halliburton, Boeing and GE Aviation. MMI is dedicated to the marketing aspect of the auction business, employing innovative promotional strategies and the most appropriate sale systems and technologies to extract the highest and best value for a Seller's Assets.