In 2007, newly formed Doosan Infracore Machine Tools had an image issue.
As with cars and electronics, machine tools built in Korea were often viewed as the "cheap" alternative to their Japanese counterparts. Doosan wanted to increase sales of high-end models and target customers in medical and oil industries, which meant it had to deliver a high-quality product and change consumer perceptions. The evolution of the Puma turning and milling centers illustrates the company's journey.
---

The History of Doosan Infracore
The company we now know as Doosan Global can trace its roots to a small store opened in Seoul in 1896. Once known for retail stores and cosmetics, Doosan grew through acquisitions in the decades after the Korean War. By the mid 1970s the conglomerate's business units included a news agency, a brewery, and multiple industrial ventures. By 1979, Doosan was exporting over $100 million USD worth of product. The Doosan Machine Tool Division was established in 1967, and it entered the U.S. market in 1996.
In 2005, Doosan acquired Daewoo Heavy Industries and Machinery and became Doosan Infracore. Daewoo had been producing the Puma lathe since 1980, but the company had struggled since the Asian financial crisis of the late 1990s. After acquiring another machine tools business group in 2007, Doosan was the third largest machine tool builder in the world in terms of production capacity.'s business units included a news agency, a brewery, and multiple industrial ventures. By 1979, Doosan was exporting over $100 million USD worth of product. The Doosan Machine Tool Division was established in 1967, and it entered the U. S. market in 1996.
If you are a shop manager reading this blog, you know production capacity doesn't matter without orders coming through the door. Nobody cares about how much stuff you build unless you can sell it, too. Wouldn't you rather be one of the top 3 for sales? That's what Doosan wanted as well, and in 2007 the newly formed company set its sights on becoming one of the top-selling machine tool builders in the world.

To get there, Doosan invested heavily in R&D, restructured manufacturing operations, and ramped up their profile at industry events all over the world. Behind the scenes, engineers began reconsidering several of Doosan's most popular machines. For a new line of Doosan Puma turning centers, engineers aimed directly at CNC machine industry heavies like Haas and Mazak, using their competitors' specs as benchmarks. They wanted to develop a machine with more benefits than their rivals' equivalent models while staying within the same price range.
Building a Better Puma Turning Center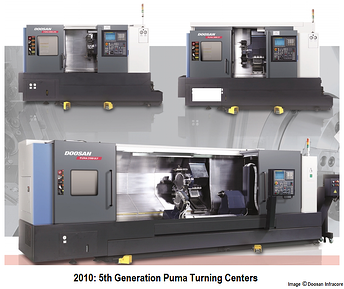 Doosan used a process called Finite Element Analysis to consider how structural components of the machine could be improved in terms of stability, stiffness, and thermal expansion. Instead of building specialized machines, engineers worked towards models that would have the broadest possible applications for end users. Using modular elements across multiple series and models helped control costs.
In 2010, Doosan rolled out its 5th generation Puma turning centers: the 2100, 2600, and 3100. Different models and bed lengths in each series added up to a total of 36 available machines. The new lathes had wider box ways, more power along the Y-axis and the ability to produce a wider range of parts than their Doosan predecessors. Static stiffness was 3 times higher than in previous models.
Heat walls, fans, and a new coolant system all but eliminated thermal deformation. Conversational programing and less required maintenance also made the machines easy to use. The machines helped Doosan Infracore Machine Tools set sales records and capture increased market share in 2011.
One machine currently available through Machinery Marketing International, the Doosan Puma 2100, is a great example of these redesigned horizontal turning centers. The Puma 2600 Y has a 750mm bed and a 10-inch, 3-jaw chuck (included). C-axis and Y-axis allow for precision cutting of irregular curves as well as circular interpolation. It also comes equipped with a manual tailstock, one of three tailstock options Doosan offers for each series, and a chip conveyor. Both are 2012 models equipped with Fanuc i-series controls, and Doosan added a few special features to the software package. For example, Turret Recovery Help walks operators step-by-step through troubleshooting for turret malfunctions. Turrets on both machines hold 12 live tools, and live tooling and tool setter are included. High speed turret indexing and fast rapid traverse rates minimize non-cutting time. The overall design allows for for heavy cutting, sustained accuracy, and fine surface finishes.
The large capacity Puma 3100 Y comes equipped with a 12-inch 3-jaw chuck, and can accommodate workpieces up to 29.9-inches long and 16.5-inches in diameter. It has a 5 inch spindle bore anda 30 HP motor drives the spindle speeds up to 2,800 rpm. Automatic power saving features turn off the machine lights and power down motors when not in use, reducing standby power consumption up to 14 percent.
To read detailed specs and view Doosan catalogs for the lathes mentioned in this article, visit the private sale page on MMI-Auction.com. Other used turning and milling centers available in the sale include the Doosan Puma 280M, and Doosan Puma V550M and the Doosan Puma 600XLY 5050. All machines are almost new with very low hours.
Click on the listings for each model to request a quote, or contact us directly using the button below.
Check back soon for more on Doosan Infracore and the Puma.