In preparation for new customer orders, a corrugation plant used MMI auction to sell a set of machines no longer needed, including two massive rolling machines.
Executive Summary
The plant is a roll forming and metal corrugating company which makes corrugated roofing and siding material for industrial and commercial buildings. After deciding they wanted to offer new products, the company needed to sell a few large machines they no longer needed to make some room for the new machines that would require. MMI was able to auction these machines efficiently and at great value.
Challenges: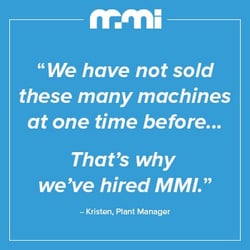 Corrugated Metals Incorporated is a roll forming and metal corrugating company based in the greater Chicagoland area. They specialize in creating corrugated roofing and siding material for various architectural uses and have provided this service for many high-profile operations, including making the decking for a massive football stadium.
To stay current and continue innovating for their customers, the company decided to branch out into new roofing and siding products, but to purchase the new machines that this would require, they needed to clear out some space. They found that they would no longer need some of their older machines, including two sizeable roll forming machines: a Bradbury machine that makes r-panel and a-panel roofing, and another that makes b-decking, which was previously used in the construction of the aforementioned stadium. They decided to sell these machines and more to clear up space for the new equipment.
The company was already familiar with MMI; they regularly used them as a purchasing agent to smooth the process of finding new machines. Because of the trust they'd already built, the company decided to take advantage of their managed auction service to sell off the excess machinery, hoping for profitability and little hassle.
How MMI Helped:
After being contacted for the auction, MMI sent reps out right away to the company's headquarters. Once there, they walked the company through the entire process, inspecting all of their machinery, offering sales prices. After walking them through, the company's work was finished, and MMI got to work on the online auction.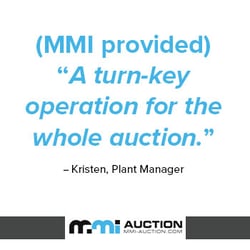 Immediately MMI's fully staffed marketing team set to work to get the word out on the availability of these massive machines. Utilizing their customer database of over 120,000 subscribers as well as targeting machinists from various industry partnerships, social media, and digital marketing, the reach and response was significant.
Results:
With their comprehensive marketing strategy and turn-key auction system, MMI was able to sell many of these large machines in only sixty days. With the space and capital needed, their metal working customer was now able to purchase the machines they needed to offer the various new products they wanted to sell, bringing in a whole host of new customers.
For the machines that were not sold at the auction, MMI continued to work with the company toward managed sales and asset liquidation. As part of MMI's commitment to their customers, a variety of marketing and sales strategies are employed until the goal of the customer is achieved.
Want to Know More?