It's no secret that the US has lost countless jobs to international markets over the last few decades. Various conditions have led corporations offshore for many manufacturing operations in an attempt to maximize profits, destroying millions of American jobs, including many in CNC machining and fabrication. However, IMTS and the good people of The Reshoring Initiative are looking to the shift the tides back.

So what exactly is reshoring? The Reshoring Initiative's website explains the process, and its importance:
"Reshoring is the practice of bringing manufacturing and services back to the U.S. from overseas. It's a fast and efficient way to strengthen the U.S. economy because it helps balance the trade and budget deficits, reduces unemployment by creating good, well-paying manufacturing jobs, and fosters a skilled workforce. Reshoring also benefits manufacturing companies by reducing the total cost of their products, improving balance sheets, and making product innovations more effective."
So, to give recognition to the manufacturers who've taken the leap and made significant efforts to bring work back to our country, The Reshoring Initiative, in conjunction with the Precision Metalforming Association (PMA), the Association for Manufacturing Technology (AMT), and the National Tooling and Machining Association (NTMA), is giving out the Second National Reshoring Award this year at IMTS.
With this award, not only do IMTS and the participating organizations look to recognize the efforts of those committed to stimulating the U.S. manufacturing market, but also to raise awareness of the potential benefits of reshoring, encouraging yet more companies to take the initiative.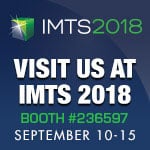 Some of the criteria for the award is listed below:
Number of U.S. jobs created

Dollars/year of sales reshored

Product innovation

Process innovation

Completeness of application

Bonus points will be awarded to PMA, AMT and NTMA members and IMTS 2018
Applications for this prestigious honor must be submitted by 8/15/2018, so head over to official web page for the National Reshoring Award right away if you think your company may be eligible, or you just want to learn more about the award. If you're hungry for more info on all the exciting stuff coming to IMTS 2018, check out this preview of the all new Used to New Trade-In Programs that MMI will be showcasing at the convention this year. Attending IMTS? Add MMI to your Show Map and learn how MMI can make your new equipment deal happen!