The logistics process for a used CNC machine is more involved and assumes more responsibility on the buyer than shipping directly from a new machine dealer. First, the machine must be picked-up from the original seller and properly loaded before it ships out, then it has to safely travel to the destination, offloaded, and installed. As such, understanding the logistical process for used CNC machines will allow you to order your machine with full confidence.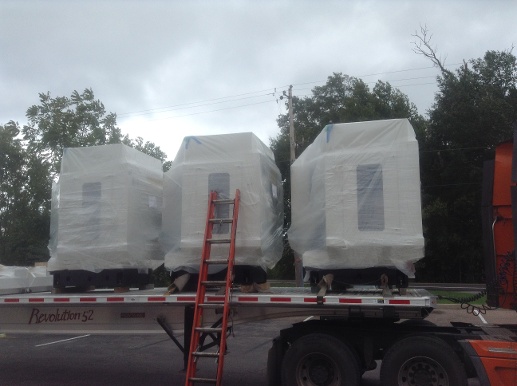 Loaded, Secured, and Tarpped. Ready for transport.
Logistical Services-Before purchasing a machine, ask your dealer if the company offers full logistical services. While a general shipping company can deliver your machine from point A to point B, an experienced CNC logistical team will ensure that you save time and money by handling the different aspects of shipping process. This includes everything in the pre-sale process, such as prepping and decommissioning, to everything in the post-sale process, such as transport and offloading. By having a specialized CNC logistics freight team deliver your machine, you will ensure that your machine arrives in good condition and that your facility is ready to have it installed. Here are some logistics issues to consider before having a used CNC machine shipped:
Decommissioning-Before a machine is shipped, it needs to be properly decommissioned. Because CNC machines are composed of many moving parts, they need to be taken apart in a certain order in order to avoid being damaged during the transport. It will also need to be drained of any liquids, such as oil. This process requires a skilled technician to complete. As used CNC dealers are in contact with third-party technicians in the area, their logistic team will be able to hire an experienced and certified inspector to get the job properly done.
Rigging and Transport-Transporting a used CNC machine begins with the rigging process. Because of their large size, many CNC machines need to be loaded onto an open freight using specialized forklifts. Since most businesses do not have access to one, they hire professional riggers to load the freight. Since CNC logistics teams have experience hiring local rigging services, they know to look for a professional company that will properly wrap and tarp (waterproof) your machine for delivery. After rigging is complete, be sure to ask the rigging company for all required paper work, such as insurance and tooling count, if any. This will confirm that your machine is financially insured and that it arrives with the right tooling. Also, feel free to ask for pictures of the rigging job, to make sure the machine has been properly loaded. A logistics management team can help acquire any paper work you need.
Offloading-Offloading a machine correctly requires that you meet several conditions. To begin with, you will need to off-load your machine. Like with rigging, a specialty forklift may be needed to offload the machine from the freight truck. Since a machinery logistics team will be in contact with a rigging service, it is a good idea to go ahead and have them handle offloading. You will also be responsible for ensuring that you have access to your dock space the day the machine is set to arrive. Unloading a machine will tie up the use of your dock, so make sure that you do not have any have any other shipments that day. Similarly, you will have to make sure that you have enough floor space to fit and operate your machine. A CNC logistics team will be able to answer any questions you have about the offloading process.
Inspection and Installation-After offloading the machine, you will need to have it inspected and properly installed. Have your machine inspected after it is offloaded to make sure it was not damaged in the shipping. It is important to do this before the truck leaves, as you may have issues returning the machine if anything has gone wrong. You will also be responsible for installing the machine. For example, before purchasing a machine, you should know if you have the right power supply. If not, you will not be able to power-on your machine. A logistics coordinator will be able to provide the right kind of adapter if one is needed. While some companies have in-house technicians that know how to install CNC machines, many do not. If you do not have one, a CNC logistics team will able find a certified technician in your area to install it. Regardless, be sure to obtain a copy of the machine's manual ahead of delivery time. This will help with set up instructions. Ask your dealer if your machine has one included, if not, then you can usually get one from the original equipment manufacturer.
Having a good CNC machine logistics team will save your company time and money. They will be able to identify any foreseeable transport problems before your machine is shipped and can help assist with installation after the machine is delivered. Machinery Marketing International has an experienced logistics team that has shipped every kind of CNC machine from across the United States, Canada, and Mexico and has access to both truck and ocean freight. Press the button below to contact MMI logistics for any shipping questions you have.