CNC Lathe Basics
A CNC lathe is automated via computer technology using a computer numerical control. This type of automated milling device is designed to make industrial components without the need for direct human assistance. Instead, the device allows a computer to dictate the machine's movement to perform precision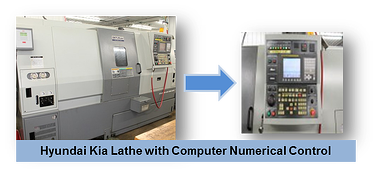 cutting functions.
CNC lathes are in widespread use in global manufacturing. In many cases, lathes are operated by trained engineers who are more frequently now trained to operate computer-controlled machines. A CNC lathe can be used around the clock and only needs to be turned off for occasional maintenance. This type of lathe is programmed with a design that can in turn mass produce products by the hundreds or thousands that will result in identical design.
Operating CNC Lathes
It takes a skilled and experienced machinist to operate both manual and CNC lathes. With a CNC lathe,
training is concentrated on the machine's software, which provides the operator the opportunity to practice on a computer screen. This process ensures accurate testing and helps avoid costly production errors.
Operators must also understand the programming parameters of the CNC machines as well as safety standards for automated equipment. While inputting the design is critical for CNC operations, a CNC machinist also will need to take into account the spindle speed, tool selection, workpiece clamping and positioning, cutting sequences, and the software's programming language.
CNC Lathe Auctions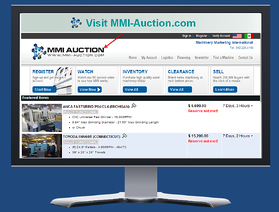 With the many benefits associated with CNC lathes, the convenience and accuracy they provide result in higher costs for the equipment and repairs. If you are in the market for a CNC lathe and don't have the budget available to purchase one new, MMI Auction has the ideal solution. We specialize in CNC lathes and a large variety of other used OverCNC machines. Buying a used CNC lathe can save you thousands while ensuring that the machine is in good working condition as it has already been running and in production. We run multiple CNC auctions and sales each month, which feature up to 30 CNC machines each. To take part in our auctions, simply sign up free to place bids, make offers and post questions about machines. Each machine up for auction comes with a detailed description, specifications, photos and often videos as well. >>View next auctions here
Contact MMI Auction
With trusted brands like Haas Automation, Daewoo, Doosan, Mazak, Cincinnati, Mori Seiki, Hitachi Seiki, Warner Swasey and a large selection of other well-known manufacturers, you are bound to find what you are looking for with MMI. We are always available to answer any questions you may have about our auctions and how they work. To contact us, simply fill out and submit the Contact Us form on our main website. One of our friendly staff will promptly respond to your inquiry.
Stay on top of all of our CNC machine auctions and sales through our Newsletter.
Looking for a specific CNC lathe or other used CNC machines? Let us know what you are looking for below: