---
2012 OKUMA LB3000EX-1000-BB
THE EXTREMELY VERSATILE LB3000EX SOLUTION
HIGH ACCURACY MEETS HIGH THERMAL STABILITY
LARGEST, MOST ADVANCED HORIZONTAL LATHE IN SPACE TURN EX SERIES
:
---
2012 OKUMA LB3000EX-1000-BB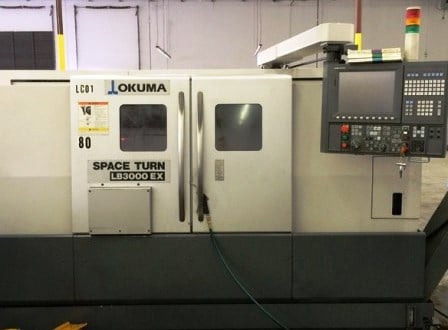 Advantages:
Highest Quality in Thermal Stability
High accuracy specifications overall assure machining with high thermal stability. The LB 3000EX is built on Okuma's Thermo-Friendly Concept to ensure minimal thermal growth, and slanted box bed construction translates to unsurpassed quality and rigidity.
Surper Rigidity and Speed
Big reduction in machining time with a high torque PREX motor, and delivers quality machining from heavy to high speed cutting in combination with a larger and faster spindle, top rotation seed, horsepower, and torque in its class.
Easy to Operate
Personal computer touch for ease of use many other functions including collision prevention and interactive operation with the operator friendly, open architectureOSP-P200L Control.
Extream Versaility
An NC tailstock, Y-axis functions, one chuck machining and sub-spindle integration all provide rich variation and ease-of-use for a multitude of complex work functions.
OSP Control
Advanced One Touch Programming Software
22.83" / 22.83" Swing Over Bed / Cover
13.39" Max Machining Diameter
39.37" Max. Machining Length
3.58" Thru Hole
42 - 4200 RPM Spindle Speed
40/30 HP Main Spindle Motor
12 Turret Positions
Schunk 10" Chuck
Live Quill
Ballscrew Driven Tailstock
Touchsetter
Chip Conveyor
Great Price Prior To Removal
For More Information Fill Out Our Form >> (312) 226-4150
---

Our History:
Machinery Marketing International (MMI) has been in the business of buying and selling used CNC machines directly to and from end users for more than 20 years. Our full range of services includes buying and selling surplus CNC machines, asset recovery, liquidations, scrapping, logistics and financing for used machinery.
From high-end fabrication equipment to state-of-the-art CNC machines, MMI offers high-quality used CNC machines across the world's foremost industries.
.
.
Call Us (312) 226-4150
---
Okuma lb3000ex, Okuma CNC, Horizontal CNC Lathe, Okuma Lathe for Sale, LB3000 EX-II , Largest Horizontal lathe, Affordable CNC lathe