This article is by Paresh Thakor, a CNC specialist at Ajan Electronics. Ajan Electronics specializes in no break power supply systems, electric discharge machines, milling machines, plasma cutting machine and lathes. Paresh is sharing his knowledge and expertise on CNC Plasma and Laser Cutting Machines with MMI.
CNC (Computerized Numerical Control) machines are very popular these days and used by a number of industries for precision cutting of metals, woods and plastic. Do you know how they came into existence? The CNC technology was invented during World War II as the aircraft industry wanted to manufacture precise and complex parts. The concept of numerical control was developed by a man named John Parsons in order to manufacture congealed skin for airplanes. His concept led to a series of Air Force research projects, done at MIT. The research began in 1949.
Later, John T. Parsons started working with Frank L. Stulen and used computer methods to find a solution to the machining hindrances. He achieved accurate interpolation of curves, the kind that we see on helicopter blades.
Stulen's brother suggested that he should use stress calculation on the rotors. Parsons noticed Stulen's experiments with punched card machines, and as he saw him achieving an outline with 17 points, he asked his partner whether it was possible to generate an outline with 200 points.
Their main goal was to produce smoother rotors, but thanks to their efforts, this dynamic duo was able to create an early version of NC. Their system could generate numbers for composite and accurate outputs. After the initial achievement, Parsons thought about a completely automated tool that could exceed the performance of the NC system he and his partner had developed. Hence, he met the chief of Servomechanisms Laboratory at MIT, Gordon S. Brown, in 1949 to build a feedback system that could measure the capabilities of the numerical controls.
The project received adequate resources and backing and, finally, the system was displayed in September 1952. Fortunately, the MIT's system worked as it was meant to, and people realized that with the help of this system, they could perform any complex cut, which was impossible manually. However, it was very complex and thus, people doubted how it would perform in workshops. In addition, the cost was more than $2 million USD in today's estimation.
Realizing the massive cost, Air Force stopped providing funds for the project in 1953. However, a company named Giddings and Lewis Machine Tool Co. restarted the project by developing a numerical control that was cheaper and offered better quality and efficiency. They created the Numericord controller and replaced punch type readers with magnetic tape readers.
Example of a CNC Machine: Haas SL20T Lathe
A year later in 1957, AIA and Air Material Command at the Wright-Patterson Air Force Base collaborated with MIT to create a completely computer controlled NC system. The invention of CNC machines reduced production cost and improved delivery time across several industries.
Example of a Laser Cutting Machine: Amada FO 3015 NT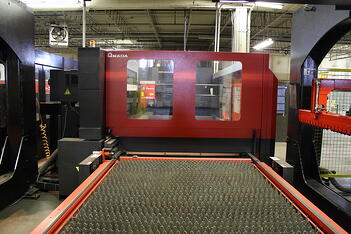 These days, CNC machines are applied in various industries such as welding, laser cutting, ultrasonic welding and others. Even a small business or an individual can afford such CNC cutting machines, and advanced software simplifies the job of getting the machine to optimize the use of sheet metal and churn out a large number of custom shapes in very little time.
About the Company:
Ajan Electronics offers a wide range of CNC machines such as CNC Plasma Cutting Machines, CNC Pipe cutting machines, and CNC Bevel Cutting machines with different production capacities and price ranges. If you are looking for a new CNC machine or are replacing an older one, browse through Ajan's featured range of CNC machines to fit your current production needs.