New Auction For May 29 – High-quality used CNC Lathes, Machining Centers, Lasers, Mills, Drills, Transfer Rotary Machines and more from industry top brands are available for bidding! Save time and money with the speed and precision of our used CNC machines.

Tsugami BU 38 SY Swiss Type Lathe 2002: Manufactured in 2002 , this Tsugami BU 38 SY Swiss type lathe is equipped with a standard tooling package, 2000 psi coolant pump, manuals, mist collection system and LNS barfeed. This 7 Axis Swiss type lathe comes with a Fanuc 18i-TB control.

Hardinge Conquest T42 CNC Lathe 1995: This 1995 Hardinge CNC lathe comes equipped with a GE Fanuc 18t control. It offers a 10 HP spindle motor, 5,000 RPM spindle speed, A2-5 spindle nose and 12 position turret. In addition, it has 6.00" hydraulic chuck, sub spindle with collet nose and standard coolant system.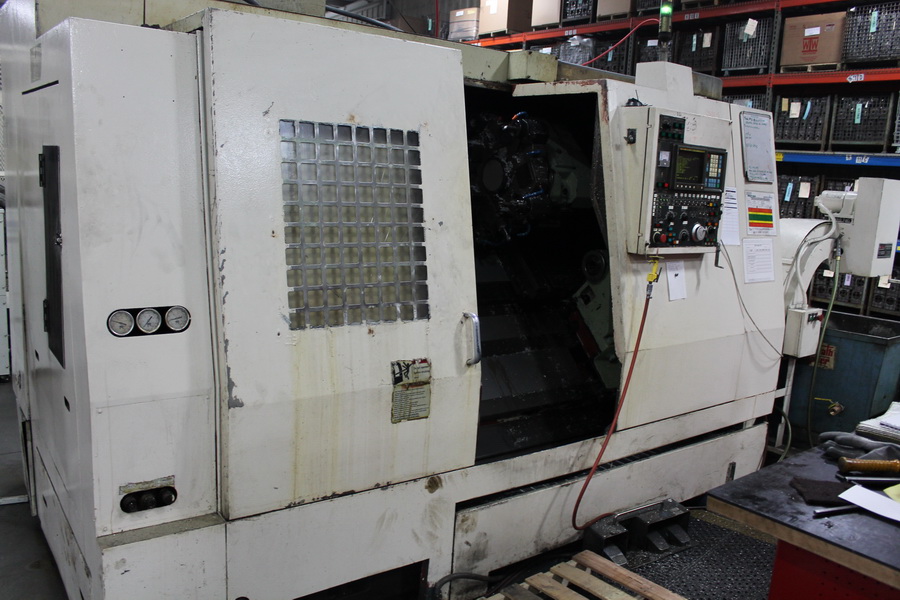 Hwacheon HI-ECO 35 CNC Turning Center 1995 : The high-quality Hwacheon HI-Eco 35 is a 1995 model with a Fanuc OT-C control. This CNC lathe comes with 23.65" swing, 50" distance between centers, 2,500 RPM and 15" 3-jaw chuck. Additionally, it comes equipped with 10-Position turret with 5-live milling stations and hydraulic tailstock chip conveyor.

Daewoo Puma 6S CNC Lathe 1995: This CNC lathe is a Daewoo Puma 6S model made in 1995. It is designed with a Fanuc O control, 6" chuck and 20 HP spindle motor.This valuable machine also has 6,000 RPM spindle speed, 1.5" bar capacity and 12 position turret.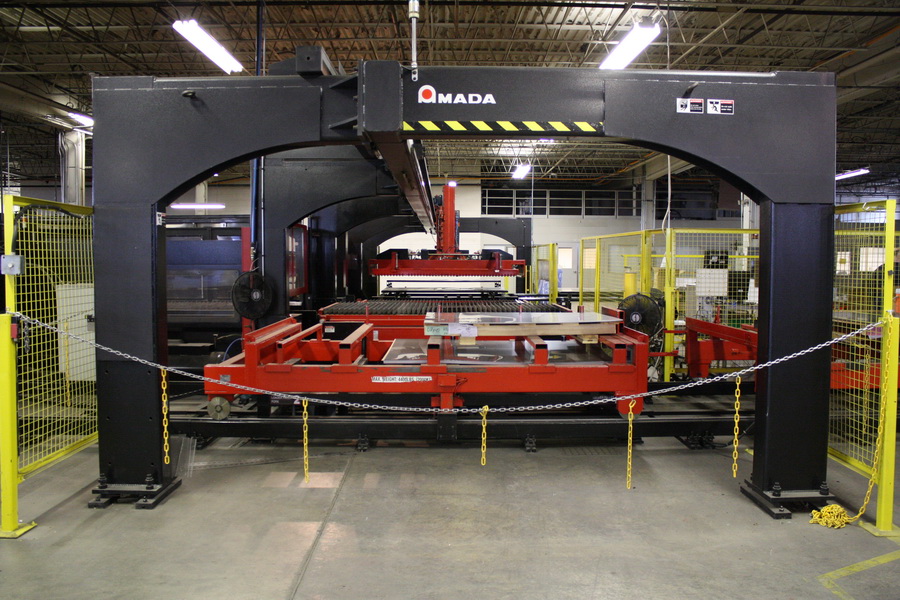 Amada FO 3015 Laser 2003: Manufactured in 2003, this Amada FO 3015 laser is equipped with a CNC Fanuc AF4000E control, 134.64" x 61.02" x 7.87" XYZ axis travels, and 120.87" x 61.02" x 7.87" cutting area. Its laser oscillator offers 4,000 W output, CO2 laser beam with 10.6 μm beam wave length, and 5 to 2000 Hz frequency range. In addition, it comes with a custom holding tank, safety fencing and dust collector, as well as the options of an Amada AMS 3015 laser line and Amada EZ cut system,.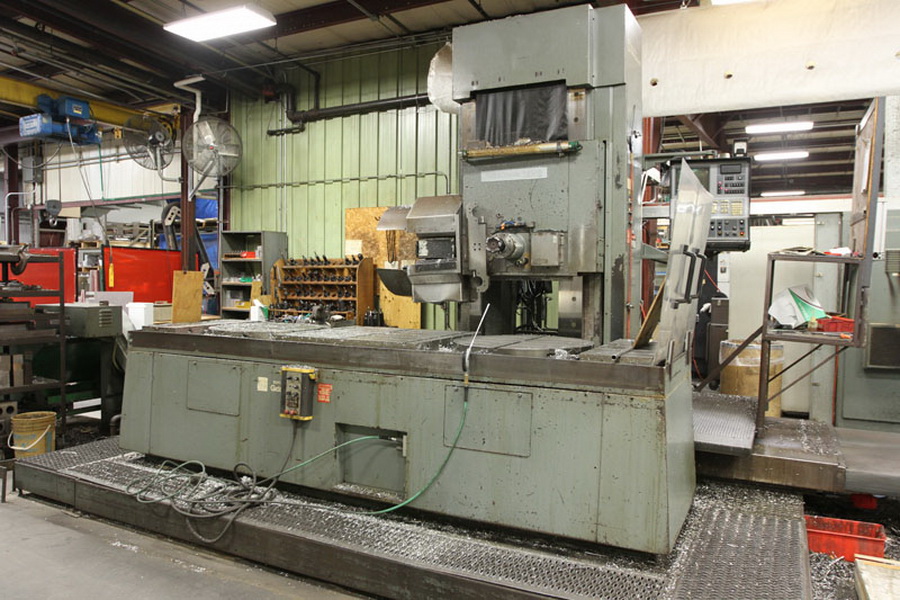 Giddings & Lewis Numericenter 15HS CNC Milling Machine 1984: This 1984 Gidding & Lewis Numericenter 15HS CNC Milling Machine has an X Axis travel of 121.125", a Y Axis travel of 36.100", and a Z Axis travel of 24.230″. This machine also comes fully equipped with all tooling and manuals, which are invaluable for future users.

Mikron HSM 800 3 Axis Machining Center 2005: This 3 axis machining center, produced in 2005, has a 35.43" x 23.62" table surface with a base made of polymer concrete, which is capable of holding a table load of 2,205 lbs. Additionally, it comes equipped with a chip conveyor, a high torque spindle, a polycarbonat screen machine enclosure, paper roll filter option, touch probe PS 32, oil mist spray unit, rotating window, beacom, air blast, "APS" option (advanced process system), "ITC" option (intelligent thermal control), and a mist buster!
Haas VF3 Vertical Milling Machine 2000: This 2000 Haas VF3 vertical milling machine is 48" x 18" and has a table load capacity of 3,500lbs. Additionally, it comes equipped with the Haas QuickCode, chip conveyor, rigid tapping, programmable coolant, brushless servos, user definable macros, and coordinate rotating and scaling.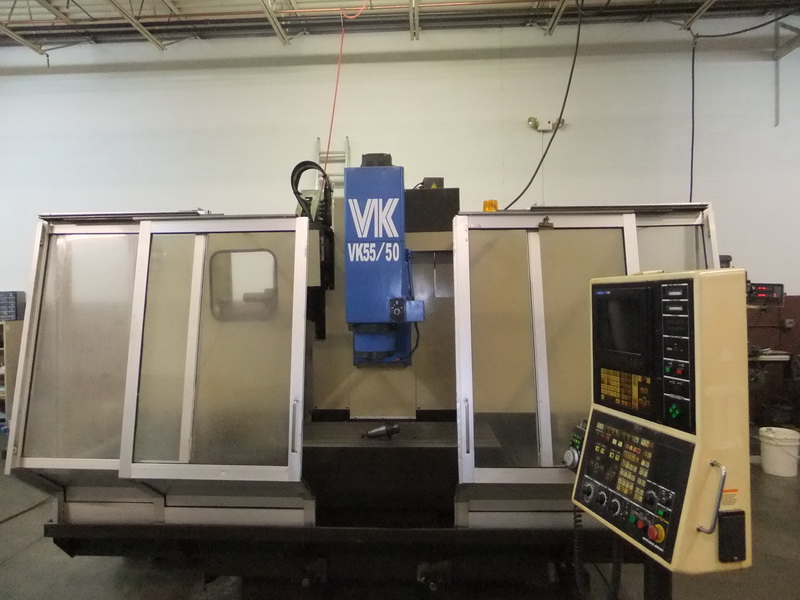 Hitachi Seiki VK 55/50 MVC Vertical Machining Center 1995: This 1995 vertical machining center has a work surface size of 44.09" x 22.04", and has a rapid traverse rate of 511.81"/min and a cutting feed rate of 196.85"/min. Additionally, this vertical machining center comes fully equipped with all of its manuals, which is a big luxury for buyers of used CNC machines!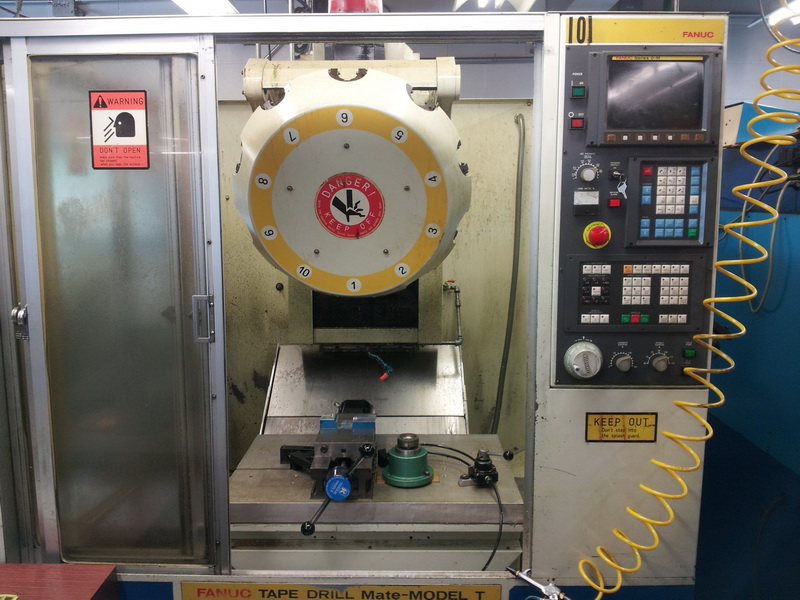 Fanuc Model T Drill & Tap Machine 1990: This 1990 Fanuc Model T drill and tap machine, which stands in great condition, has a 10 station turret and a BT 30 Taper Spindle. The X-axis travel measures to 19.7", the Y-axis travel measures to 14.9", and the Z-axis travel measures to 11.8". This high-quality drill and tap machine also comes equipped with a M86 interface indexer.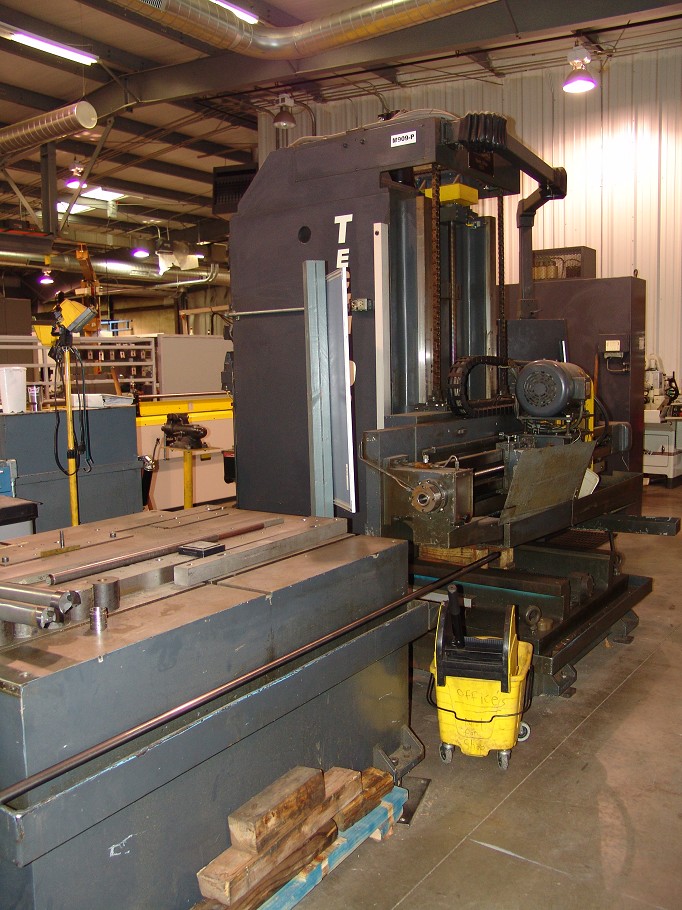 Technidrill 100-1.0-60-3A CNC Drilling Machine 1996: This 1996 Technidrill 100-1.0-60-3A CNC gun drill machine is in great working condition and is sure to lower your production cost! It has a table that measures 66" x 48", a drilling diameter of 1", and a drilling length of 60". The coolant system will provide you with 250 Ga. - 20 GPM, 1000 psi,10 micron filtration, air type heat exchanger, and a chip conveyor. Additionally, it produces 460V-3 Ph-60 Hz of power, and has a spindle of 7.5 HP.

Whitney 3700 ATC Turret Punch 1994: This 1994 Whitney 3700 ATC turret punch has an outstanding punching capacity of 40 tons, and a punch diameter of 5". This high-quality turret punch has a maximum axis travel speed of 2,000 IPM, and a maximum workpiece weight of 1,000 lbs. Additionally, this machine comes fully equipped with round punches, OB punches, new round punches, dies, and round dies.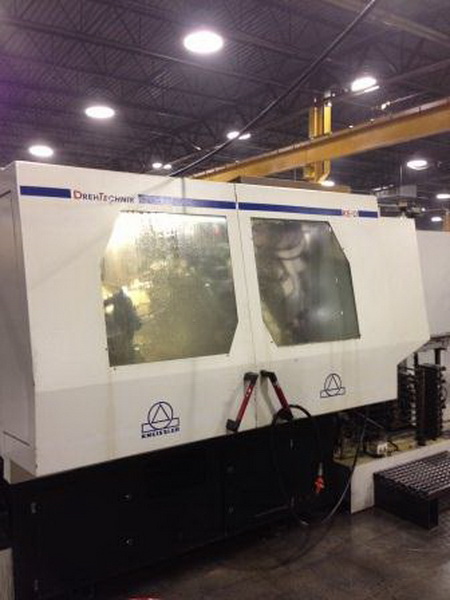 Eubama Kneissler KE-D Transfer Rotary Machine 2003: This 2003 Eubama Kneissler KE-D transfer rotary machine is fairly new and in outstanding working condition. It has a maximum turn diameter of ¾", and a maximum length of 26". Additionally, this transfer rotary machine comes equipped with an auto loading conveyor.
There are dozens more used CNC and manual machines in the May 29th online auction. For a full inventory, visit mmi-auction.com. To view our entire inventory available for auction or conventional sale, please visit mmi-direct.com.