Machine Shop Safety Resources at PMTS 2015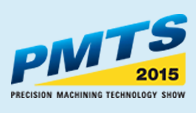 Just one more reason to attend PMTS 2015 this month: it can help make your shop safer! The following workshops and exhibitors have resources to you help improve shop safety and reduce costs associated with time-lost incidents. We hope you will continue your commitment to safe manufacturing practices by visiting at least 2 or 3 of the options of this list!
Tue. April 21 8:15 AM - 9:15 AM
Join John Wiley of QualiChem, Inc to learn the fundamentals of metalworking fluids, including compatibility, shop safety issues, when to use, what to use, and why not to use. Metal working fluid systems, including coolant, water based, and oils will be covered. This workshop is appropriate for operators working with Swiss, Cam, and CNC machines as well as other machine shop equipment.
These adjacent booths house two the main sponsors of PMTS and are usually staffed by people with a wealth of industry knowledge. Among many other benefits, the PMPA helps members understand and stay in compliance with OSHA and EPA regulations, while the folks at Modern Machine Shop can tell you what the industry's Top Shops all have in common.
Firetrace has designed systems to detect a fire inside a CNC machine 10 times faster than traditional methods, and then discharge a "clean" fire-suppression agent directly to the source of the flame. The systems not only protect workers but also save costly machinery from significant damage.
4. Exhibitor: REGO-FIX –

Booth 763
Rego-Fix has developed an anti-slip mini clamping nut for Swiss automatic machine tool applications. Called intRlox Mini Nuts, they prevent the locking wrench from slipping during tool changes, which in turn protects operator's hands and can prevent damage to adjacent tools.
What do magnets have to do with safety? Material handling magnets can prevent injury by safely lifting heavy loads, while "sweeper" magnets can collect ferrous dust and dangerous metal debris from manufacturing and shop areas. Other applications include welding and workholding.
6. Exhibitor: MiJET –

Booth 1515
Manufacturing industry trade shows are great places to check out fun gadgets like the MiJET by Custom Service Solutions. The tiny station combines a compressed air blaster for cleaning parts with a vacuum tank for capturing and recycling oils, solvents, and chips. The company claims that the device will help operators breathe easier by reducing oily mists and particulate matter in the air, not to mention keeping the floor of the shop clean.
More Safety Resources: